Minlak as it is most commonly called is located at 42 Cedar St.
(Bottom rear entrance to Minto Elementary and Middle School). It
provides a wide range of services and support for adults between the ages of
19 and 64 with disabilities located in the Grand Lake area.
Minlak is a non profit organization funded by the New Brunswick
Department of Social Development and the New Brunswick Environment Trust Fund.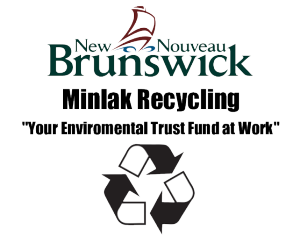 What this Site Provides
About Minlak - What services Minlak provides and information about those who operate the business.
Events - All upcoming Special Events
Art by Minlak - Art Projects by a Minlak Student will be featured here
Mission Statement - Directive that all staff of Minlak Training Programs adhere to.
Training - Training provided to those with special disabilities
Recycling - Recycling services provided to the community that assist with funding of programs at Minlak
Electronics Recycling - Find out what electronic devices in your home can be recycled
and where to take them
Forms - All forms and directives that can be downloaded in PDF or DOC format.
Links - Links to companies that help assist Minlak
Contact - How to Contact Us
We Look Forward to Hearing from You!!!